DEDHAM ELECTRONIC ORGAN SYSTEMS
We are pleased to announce that, as of 1st April 2008, Kimber-Allen UK Ltd. have purchased, by mutual agreement, the electronic organ system manufacturing business of Dedham Organ Systems Ltd.
The manufacture and supply of these systems will continue, as normal, from our factory, and we will continue to work closely with Vic Hackworthy who will provide system layout, technical backup and customer liason.
Vic Hackworthy will also continue to offer, under his own company name of Dedham Organ Systems Ltd., his normal on site services of installation and technical assistance.
Dedham 2 Wire Processor System
This system has been designed as a complete keying and piston memory system for use when a detached console is required. Individual modules are eliminated in this all in one system simplifying installations and without the need for any "special tools".
This system comes completely programmed for all functions as required, eliminating the need for customers to 'self programme'.
The piston memory extends from a simple 12 way rotary switch system, to a 30 or 60 level display module, and up to 256 levels for general piston, along with the 12 way for department levels, this is primarily for use when a stepper is required when the current general piston number is displayed.
The organ receiver system is completely programmed for all stop-note unifications as required, with action cut-outs, and top, and off notes fully incorporated.
Dedham Diode Switching System
This tried and trusted system has been in production, virtually unchanged, for over 20 years, and consists of a series of 'AND' gates, using discrete components, i.e. resistors, diodes and transistors.
One recent improvement to the system is the use of colourd PVC wires so that each manual now has a specific colour coding, so improving traceability.
All printed circuit boards are mounted on hinged mahogany frames for easy access, and are all pre-wired to a common pinboard eliminating the need for the organ builder to connect directly to the circuit boards. This pinboard requires just a single wire from each key, pedal and stop contact. All pipe magnets are cabled through to their respective terminal pin.
Standard polarities apply, with all inputs switching to the 12-18 volt positive terminal of the power supply unit. With all outputs being negative, all magnets driven from the system require their return (busbar) wires connected to the positive terminal of the power supply unit.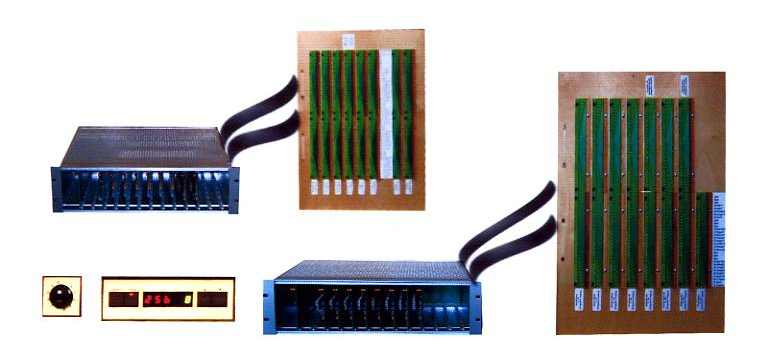 This system can also be built as an all in one unit, where inputs and outputs are incorporated into the one case, often resulting in a substantial saving.
The PCB pinboard can either be our standard pin termination or supplied with 'Krone connectors' and if required with smt light emitting diodes.
Other Items
.
.
Miscellaneous Items
Economical Switched Piston Selector Panel - A simple slide switch piston stop selector for those smaller instruments when a multi level-memory system is not required. Reversibles wire in as required.
Pedal Derivation Driver Panel - For those occasions when a simple switching module is all that is required for those pedal units.
Melodic Base Unit Panel - For that occasion when your client requires the function of playing the lowest pedal note from the manuals.
In all of the items shown to th right all standard polarities apply.
Should you require any further information on any of these systems please contact us for in depth details.