K-A UK LTD. DRAWSTOP SOLENOIDS
KA DRAWSTOP SOLENOIDS FOR QUALITY AND RELIABILITY


NEWLY AVAILABLE

All KA Drawstop Solenoids are now supplied fitted with solid,
hard felt armature bearings. This material reduces friction, and noise,
and gives an exceptionally nice feel to the action.

All 1" (25mm) stroke LMT Drawstop Solenoids can now be supplied
with a centre mounting flange to order. If required this flange
can be located to your own dimensions.

All units now available with miniature 2.5mm pitch, cam type, plug
in connectors, which combine all standard connections onto one PCB.

All KA drawstop Solenoids now have the brass bearing tube graphite
coated for reduced friction.

If required we can fit locking grub screws to the black
(or white) rods to locate the drawstop knob in position.


THE KA DRAWSTOP SOLENOIDS

The KA designed and built Drawstop Solenoids are the result of many
years continuous development.
They are Compact and easily mounted directly behind the Jamb, using the
convenient 3 screw fixing with built in radial adjustment for final
drawknod engraving line up.
All units feature a refined magnetic toggle action for positive movement
and positioning while reducing bounce, and will fit jambs of 5/8" to 1,1/4"
thickness, locating in a 1" diameter hole.
Top quality reed switch contacts are used throughout the range and all
units come fitted with bushes and rods, in your choice of colour
combination, as standard.
Drawstop Knobs, engraved if required , are available from our range.
DRAWSTOP SOLENOID RANGE
AS012 Type LMT Long stroke Drawstop
1" drawlength.

AS013 Type MT Mini Drawstop
5/8" drawlength.

AS014 Type MT/DL Mini Drawstop Quiet Action
5/8" drawlength.

NOTE: All units can be fitted with optional plug in connectors, additional reed switches, and different colour combinations of rod and bush. Please enquire for further details.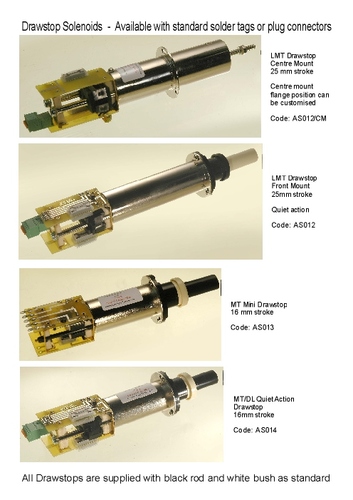 DRAWSTOP SOLENOID DIMENSIONS
For a clearer drawing either left click on drawing and then enlarge or right click on drawing, save to disc and then print.

For further details refer to the KA catalogue or contact us using the e-mail connection on our Home Page.